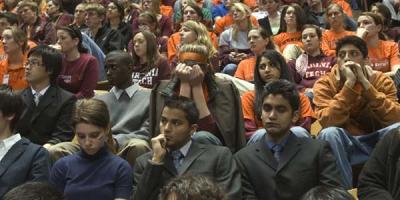 Una prova de l'extensió del fenomen blolg, comentat en anteriors entrades, el trobem a la brutal matança de Virginia.
Aquesta va ser seguida minut a minut per diferents blogs d'una manera instantània, fins i tot es van adelantar a les agències de notícies, el que va comportar que les notícies no fossin fidedignes o es facin eco de simples rumors, tal com es comenta a la següent notícia apareguda al diari digital IBLnews (veure aquí).
"We are sad today, and we will be sad for quite a while.
We are not moving on. We are embracing our mourning.
We are Virginia Tech ... "
- Nikki Giovanni, Professor, poet, activist